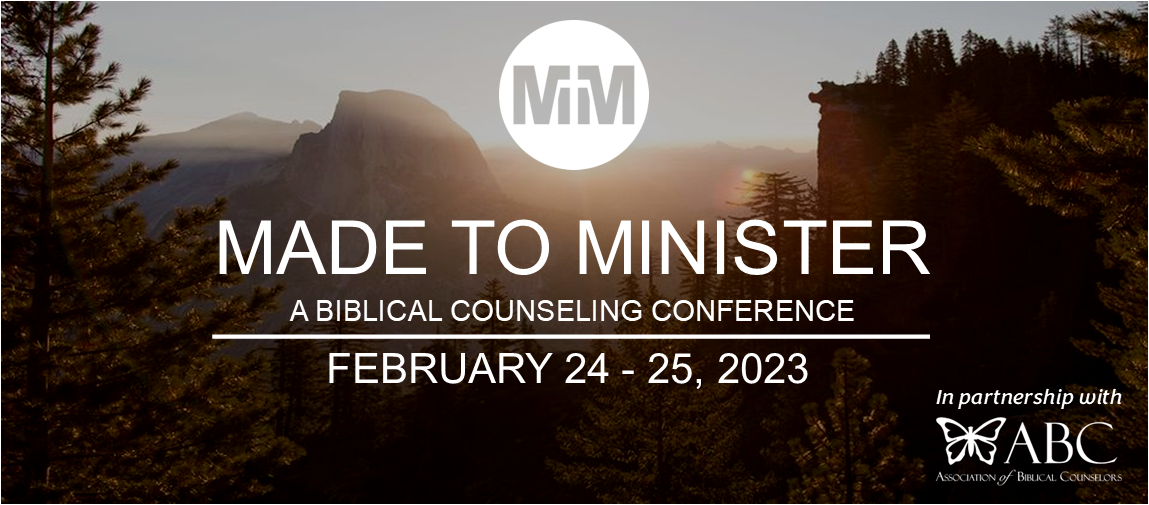 You can find the Conference Information page that was linked to the QR code here. It has the session notes as well as links to more information about the ABC conference and a way to join our email list for information about future workshops.
Whether you are a pastor, ministry leader, youth worker, parent or friend,

come be equipped to serve and care for the diverse needs of the souls in your community. We were all made to minister!
Date: February 24-25, 2023 (Friday evening, all-day Saturday)
Location: Salem Heights Church, 375 Madrona Ave S, Salem, OR 97302
Cost: $50
Registration: open now; Register soon! Workshops are filling up!
Keynote Speakers: Garrett Higbee & Lee Lewis
Workshop Tracks:
     Anxiety with Lee Lewis & Shauna Van Dyke
The need in our churches and communities to address anxiety is growing exponentially. Believing we are all Made to Minister, we will explore anxiety's roots and offer practical ways to come alongside suffering people.
The Anxiety workshop track includes the following sessions:
"Defining Anxiety Biblically," Speaker: Lee Lewis – Soul Care Consulting
"Discerning and Navigating the Conversation," Speaker: Shauna Van Dyke – Association of Biblical Counselors
"Counseling Anxiety through the Scriptures," Speakers: Lee Lewis & Shauna Van Dyke
     Domestic Abuse with Pete Potloff & Tara Cox
Domestic violence lurks both outside and inside the church community. In this track we will define abuse, look at why abuse happens, and learn to identify signs of abuse. We will consider how the Bible views abuse and propose appropriate personal and corporate church responses so we can effectively minister to both the abused and the abuser.  
The Domestic Abuse workshop track includes the following sessions:
"An Overview & Biblical Perspective of Domestic Abuse," Speaker: Pastor Pete Potloff – Executive Pastor, Salem Heights Church
"Our Response: Practical Steps for the Church and its Biblical Counselors," Speaker: Tara Cox – Coordinator of Counselor Care, Salem Heights Church
"In Her Shoes: An Experiential Learning Activity," Facilitator: Aaron Greene – Salem Heights Church
     Soul Care in the Local Church with Garrett Higbee & Emily Dempster
What is biblical counseling? What could a comprehensive plan of care for souls look like in my local church? Do you think I could counsel?  How can I learn more about biblical counseling?  If you've asked yourself any of these questions or think God may be calling you to walk beside others, guiding them along a biblical path, this track is tailored just for you.
The Soul Care workshop track includes the following sessions:
"Building a Culture of Soul Care in the Church," Speaker: Garrett Higbee – Soul Care Consulting
"Paradigm Shifts Needed to Grow a Culture of Soul Care in the Church," Speaker: Garrett Higbee – Soul Care Consulting
"Building a Church Biblical Counseling Center to Support the Church," Speaker: Emily Dempster – Counseling Training Coordinator, Salem Heights Church
Conference Schedule:
  Friday:
    6:00-7:00 pm  – Registration & Check-In
    7:00-9:00 pm – Plenary Session #1
  Saturday:
    9:00-10:30 am – Plenary Session #2
    10:30-10:45 am – Break
    10:45-11:45 am – Workshop Session #1
    11:45-1:30 pm – Lunch & Free time
    1:30-2:30 – Workshop Session #2
    2:30-2:45 – Break
    2:45-3:45 – Workshop Session #3
    3:45-4:00 – Break
    4:00-5:30 – Plenary Session #3