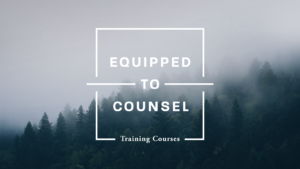 Look closely inside any church and you'll find people hiding their issues behind friendly smiles and warm greetings. A marriage is ripping apart. A couple struggles with their young child's behavior issues. A woman battles her relationship with food. A man sinks into the darkness of pornography addiction.
Here in the Northwest, many have relegated the call to walk alongside our people to a bit of encouragement coupled with a referral to seek counseling outside the church. Seminaries spend little time equipping ministry leaders and pastors to serve in the trenches of disintegrating marriages, addiction, parenting, or mental health crises. Those who minister do not feel equipped, precisely because they aren't!
We at Made to Minister believe faithfulness to God's Word in the church includes both preaching the Word and counseling the Word (see Matthew 28:18-20). We maintain that all mature believers are called to be biblical counselors, and we desire to equip churches to begin counseling within their own body.
Our passion for equipping churches leads us to provide a unique training opportunity through the Association of Biblical Counseling. Equipped to Counsel is an 8-month course designed to train followers of Christ to apply the gospel in both personal and issue-specific ways, so that we, as the body of Christ, can learn how to wisely and biblically disciple suffering people. We address both the theology and practice of gospel-centered counseling. Participants are trained to minister effectively to individuals, couples, and families from a biblical perspective on change in the context of community. Issues such as addictions, anxiety, anger, and depression are explored.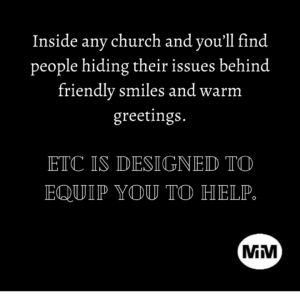 Made to Minister has provided training for dozens of churches in the Willamette Valley over the past five years. Many of our students have chosen to become certified biblical counselors. Others have enjoyed learning for personal growth and enrichment. This year we will be offering a hybrid model of training. We will meet once-a-month for three hours with assignments and interaction in-between classes through our online learning platform, Moodle.
We are excited about this opportunity that allows busy ministry leaders to spend less time in class while still experiencing the rich content of the ETC curriculum. Our on-campus meetings will focus on practical application. Each three-hour class will include highlights from assigned reading, examples of what applying the course content looks like, observation of counseling cases, and role play. Between classes, our experienced graders will interact as students respond to what they are reading.
This year we will keep our class size to 25 students per time slot in order to meet social distancing mandates. We have built flexibility into the course in case of new State directives. Should changes be required, we will roll our in-person classes over to live (synchronous) Zoom meetings with breakout sessions. If you want more information, check out our Frequently Asked Questions page on the Made to Minister website. If you are ready to join, click this link to register.